PRICING
I want to make the process as simple and stress-free as possible, not just in our mannerisms but in our business model as well. Digital package is very simple and beside that I am offering a few additional services. Something like two super-experienced photographers, more photos, different wedding books, photo frames, pre wedding couple shoots…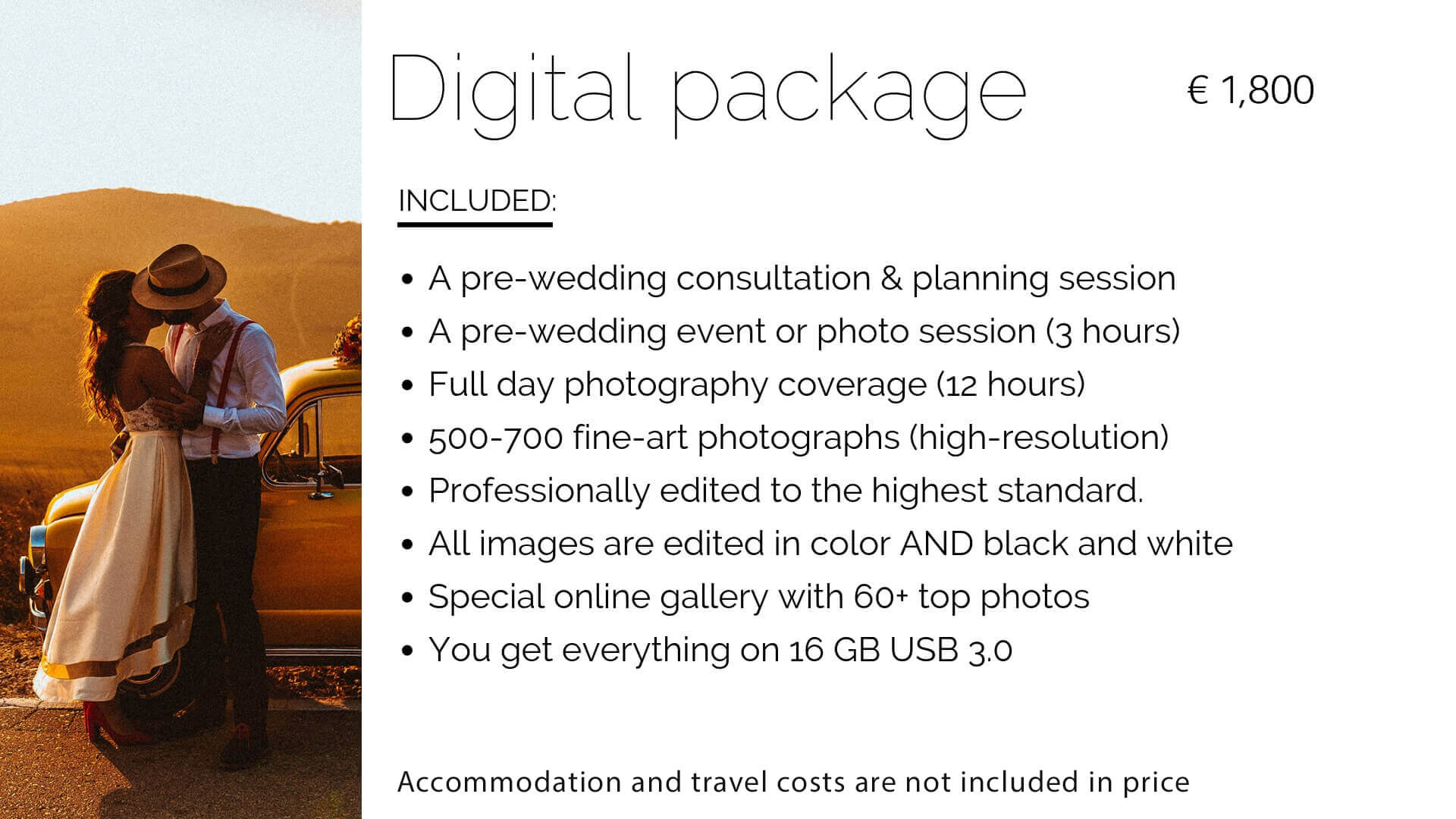 One of the most popular additional options. Extend your photography coverage to get more exceptional photos – captured moments and emotions. Consider this as my personal advice.
If you are a real photography lover and If you would like to have more photos of your wedding day.
One of the most popular additional options. Extend your photography coverage to get more exceptional photos – captured moments and emotions. Consider this as my personal advice.
I create a webpage with your own personal wedding online photo gallery. The gallery will be full of amazing, funny and unusual photographs in color and also in black and white version. That is gallery which you can open in just a few clicks and see so many good and funny memories. All those friends, families, smiles, happinesss, drinks, talks, hugs… 🙂
We take some lovely relaxed portraits of the two of you a few months before or after your wedding.
We offer gorgeous wedding books styles and in different formats. Please have a look at them in detail below.
ELITE PREMIUM
Page number: 20-80
Circa: 60-150 photos

Formats & Prices
First photo: One book 60 x 30 + Two books 40 x 30 cm = 350 €
Second photo: One book 40 x 30 + Four books 20 x 30 = 500 €
Other four photos: One book 30 x 40 = 200 € (circa 130 photos)
LUXUS RUBIN
Page number: 40-60
Circa: 80-120 photos

Formats & Price
One Big Book Rubin: 60 x 30 cm = 300 €
Details about Standard package
Together we can talk and organise remarkable photo session and have a great, funny and pleasent experience.
A pre-wedding session is a day for making remarkable photos (a day or two days before your wedding day)
You get all the photographs in digital form on 32 GB USB 3.0
Special online gallery, you can see here examples: Tamara & Dejan or Mimi & Aram
If you wish to send all the photographs from your beautiful wedding to your family and friends, by request you will recieve a download link.
Details about photography and photographs
Photographs are in high resolution (4K) without logotype
All photographs are edited similar as photos you saw on this website: Wedding stories
Photo editing include: Cadres and composition correction, balancing all type of tones and colors
Photo editing not include: Skin retouching or changing body form or similar.
I usually work alone on weddings under 100 people (please consider adding second photographer if your wedding is bigger)
Pre-wedding photo session could be on one, two or three different locations. 
– That depends what you like, what you preffer and what photos you would like to have. I usually ask you to prepare and send me some examples (photos). Every couple is different and I always adjust my work according your desires. After I recieve examples you can expect a few proposals/ideas from me also… One of the best periods for the best light (photographs) is 1 hour before and 30 min after sundown.
It is necessary to provide:
– Minimum 1h for photographing at some location
– One lunch chair (not near the loudspeaker) or two if you decide to have a second photographer
– Vegan meal (for me) and the same for assistant (if you add second photographer).
Important:
– My style is a mix of fine-art photography and photojournalism. I love the opportunity to travel around, meet awesome couples and be a part of the most important day of their (your) life. 🙂 I try to photograph everything exactly as it happens and trying to capture the most sensitive emotions and eveyrhing other throughout the day without a lot of personal intervention. During wedding day 50% of the time I wear headphones. The light and inspirational music significantly stimulates, enhances and adorns my work and also because of communication with assistant.
ADDITIONAL PRODUCTS: ALBUMS AND FRAMES
GIFT FOR GUESTS: PRINTED PHOTO IN FRAME
How would you feel if you are on the wedding day and before you leave as a preset you get one or a few printed photos of you? 
When you are buying photographs (as a present) the price is: 2 € per photo
If guests are buying photographs the price is: 3€ per photo
For wedding with 150 guests circa 100-200 photos could be printed
It is possible to print any kind of "Thank you for coming note" or something similar on this frame.